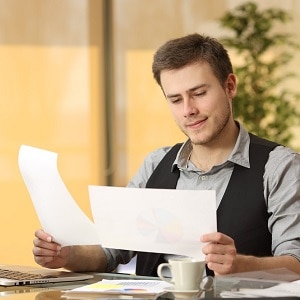 You must never underestimate the impact of CV references. Relegating them to the realm of an afterthought is easy. After all, a reference from an academic tutor doesn't seem as relevant as the grade you received on the course. However, employers practically always contact your references before calling you in for an interview, let alone before giving you the job.
It is estimated that an astonishing 70% of employers changed their mind about a candidate after reading their references. Almost half of the employers admitted to having a less favourable opinion of the applicant while one-third of employers said contacting the references improved their opinion of the candidate.
Who should you ask to be a reference?
It's important to choose carefully, a poor reference could see you losing out on a job offer. Usually a jobseeker should have 3 or 4 people who can act as a professional reference. Here are ten crucial tips to help you choose the right CV references.
1 – Avoid Friends & Family
When in doubt, it is tempting to add a friend or family member as a reference, but it is a bad decision. For example, if you're looking to land a journalism internship, don't choose a friend who works at a newspaper and ask them to lie. Employers will ask a lot of questions, and your reference will be forced to tell the truth that you did not work at the newspaper. When this happens, kiss the job goodbye!
2 – What Are Your Looking For in a Reference?
The type of CV reference you need depends on your goals. Do you want someone to highlight your sparkling personality, your work ethic or your professionalism? The best references are always those who have experienced your work and personality first-hand. While you can choose an ex-boss, other good options include a former colleague or college professor.
3 – Ask Their Permission
This tip seems like a no-brainer, but you would be astonished at how often applicants betray a person's trust. No matter how good a relationship you have with the person, they will not be happy when they receive a call out of the blue. It can catch them off-guard and potentially wreck your employment chances.
4 – Consider the Source
Never include a reference if you're not completely sure what they will say when the phone rings. Only add people who have already guaranteed a positive reference. It isn't unusual for a manager to agree to be a reference only to turn around and say negative things about you. It is even possible that your reference will put you in a bad light without realising. A negative reference will torpedo your chances. Ask your references to create a written recommendation so you have an idea of how they will portray you.
5 – Get an Internal Reference if Possible
Your chances of hire will increase markedly if you can get a reference from someone who is already connected with the company. Get in touch with this individual and see if they can act as a reference. If you don't have much of a work history with this person, only include them as an 'informal' reference; every little helps!
6 – Can Your References Focus on Your Greatest Achievements & Attributes?
The best references are ones that take the time to prepare specific recommendations that make you seem like a perfect match for the job. They can speak clearly and in detail about your work ethic, skills, and achievements both professionally and academically.
7 – Keep Them Informed
Remember, your references are doing you a huge favour, so the polite thing to do is keep them informed during your job search. It is irritating to be asked to provide a reference when you least expect it. After adding a person as a reference, make sure you follow up to tell them to expect a phone call or email from an employer. It ensures they are prepared and ready to give you a killer recommendation.
8 – Help Your References
You can't ask someone to be a reference only to provide them with little or no information! Make sure you send them a copy of your CV and cover letter along with portfolio samples if applicable. Talk to them about your skills, qualifications, achievements and the most important projects you've worked on. A prepared reference is essential!
9 – Think outside the Box
Don't assume that your references have to be academic or professional. After all, not every candidate goes to college, and it may also be your first major job hunt. You can also ask for a reference from people you did volunteer or community work with for example.
10 – Ask the Faculty if you're A Recent Graduate
Recent graduates with a lack of work experience will benefit from asking a college faculty member for a recommendation. If you had a favourite professor or excelled in their course, don't be afraid to ask for their help. Most of the time, they are happy to assist former students.
Using our tips above, you should have created a list of references who can speak highly of you, your skills and experience to date. The next step is to ask them if they would feel comfortable giving you a reference.
How to ask someone to be your reference?
Where possible it is best to ask in person, as it is more personable. But if this isn't possible you could send an email asking for a reference.
Example of Reference request via email
Subject line: Reference Request for [insert name]
Dear [name],
I hope you're keeping well. I've been following your career progression on LinkedIn, congratulations on your recent [promotion, new job, campaign or project etc.]. I can't believe it has been [x] years since we worked together at [company name]. I really enjoyed working with you on [fill in blank] projects.
I am emailing to ask if you would comfortable acting as reference for me? I am currently looking for a new opportunity in [name the subject area].
Thanks for your consideration and I hope to hear from you soon.
Kind regards,
[your name]
Finally, Should you list your references on your CV?
This is commonly asked question, the simply answer is no. References are not required during this early stage of the recruitment process. Once you are further down the hiring process and HR have asked for your references. Our advice is to always ask referees before handing out their details. Confirm that they are still happy to act as your reference, and ideally meet them in person or call them on the phone to tell them about your potential new job.