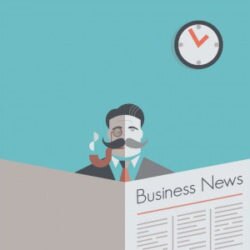 Life would be so much easier if people just said what they want; if we didn't have to decipher mixed messages, decode icy body language or interpret quizzical looks.
This haziness extends to interviews where, with a job at stake, the decrypting becomes even trickier.
Luckily, interviewers are usually all on the same page in terms of what they're looking for and we've figured out just exactly what that is.
Here's what the interviewer is just dying to tell you…
Be likeable
Easier said than done. At the end of the day, you can't make someone like you but there are some tricks of the trade that will bring you closer to being Miss/Mr Popular. Make sure you smile, maintain eye contact, sit forward in your chair and remember to be personable. The interviewer will want to work with an engaging person- not a stilted robot.
Don't be an eager beaver 
Obviously, the interviewer wants to see an enthusiasm for getting hired but wait until they have gone through all the details and you have asked any questions you have about the role. Only then will you know all you need to know and be qualified to decide if you really want it. They don't want to be overwhelmed by your excitable impatience first thing.
Stand out from the crowd 
You're just a little fish in a big sea of potential candidates. The interviewer will want to have something that distinguishes you from the rest- a little something to remember you by. The interviewer will remember you by "hooks" so be sure to provide some.  Clothing, outside-of-work interests, unusual facts about your career or upbringing- there's a whole hotpot of details that are specific to your character and will work in your favour.
Be a Curious George and ask questions 
A scatter of queries signals that you really want the job, you're keen to succeed, eager to please and interested.  Follow up on something the interviewer has said with a question to show that you can think on the spot and that crucially, you are listening.
Limit your inquisitiveness to work-related matters 
You may be primarily concerned with how much time you get for lunch or if flexitime is an option but don't bombard the interviewer with questions that might not be relevant. The responsibilities and tasks involved should be the priority. Find out if you're the right person for the job first-the rest can wait.
Bring a project 
Show you're ready to start work right away with an example of a specific skill that you can bring to the table. Research the company and prepare something concrete, illustrating exactly how you can contribute to their goals with an example of your skills. At the end of the day, it's a business and the interviewer wants to know the company will be getting its money's worth-from day one.
Say you want the job
You don't ask, you don't get.  Interviewers like to know that you really want the job and more importantly why. As the interview draws to a close, you should have a good idea of what it entails and whether you would be a good fit. If it is a job in a busy environment say you thrive in a fast-paced atmosphere and are confident you could make an impact. The interviewer wants to see you make that last ditch attempt to secure the position.
Keep in touch
Not everyone wants to hear from first encounters again but take it as a given that the interviewer wants a follow-up note.  Continue on from the meeting referencing something that you discussed. Emails are fine but why not take the old-fashioned personable route and send a hand-written card. It will be the perfect ping of a reminder of you, the interview and an ideal lead into a professional partnership.