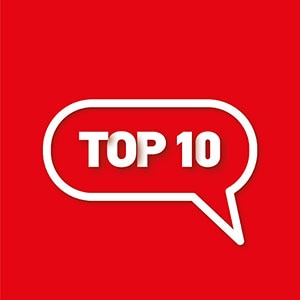 Michael Page is celebrating  our tenth year of helping job seekers find great jobs in Northern Ireland.
In our ten years in recruitment, we've accumulated a great deal of expertise and experience in the NI job market.
So if you are looking for a new job here are our 10 tips to help you in the search for your new job.
Know when it's time to move
If you dread Monday mornings or have considered pulling a sickie for no reason other than avoiding going to the office, it is definitely time to think about a new job. Equally, if your job is too easy, or you have outgrown your position you should consider looking at advancing your career elsewhere
Create a career plan
Having goals, ambition and knowing what you want is crucial to succeeding in your career. Without a clear pathway, it can be difficult to decide what direction you want to go and what decisions you need to make along the way. Think about where you are now, where you want to be and what you need to do to get there – this should form the basis of your career plan.
Find a job that suits you
Searching for a new job shouldn't always be about chasing a pay rise or the next step on the ladder. Your search should be toward finding a role that you are well equipped for and that you love doing, as well as offering challenges and career prospects. In order to find a role that delivers this it is important that you match your skills, personality and values to an industry and role where you can put them to best use.
Make the most of social media
More than half of organisations in Ireland use social media to screen potential new employees. If yours tells a different story about you than the one you wish to portray then you might need to change your privacy settings or remove the profile pic taken at the pub at 1AM!
Master transferable skills
Some skills are company or role specific while others can be utilised in every role you do. Transferable skills develop throughout your career – know what they are and set targets for improving them to maximise your job progression. Teamwork, leadership, problem solving and organisation are examples of transferable skills you can improve.
Start Networking
Whatever industry you're in, networking can play an important part in career success. Networking is building long-term relationships with key people, however, this isn't always 'business people'. You can build strong networks with friends, family or sports teams. The more effort you put in the higher the possibility they will be able to assist you one day.
Write a great CV
A meticulously crafted CV can, on occasion, secure you a job and will always improve your chances of reaching the interview stage. There are many schools of thought on crafting the perfect CV but the main things to remember are to keep it concise, detail experience and achievements, always address the job description and avoid typos.
Ace the interview
While they can be daunting the reality is that by preparing thoroughly and approaching it professionally any interview can be mastered. Always research the company, the job and the people you are meeting – there is a lot of information available you can turn to your advantage. Make sure to practice beforehand and prepare questions you want to ask. Most importantly, be yourself – the company have already decided they want to meet you based on your CV.
Learn from rejection
Getting rejected for a job is a reality everyone will have to face; the important thing is not to be down heartened and use this as a learning experience. Always ask for feedback, whether from the person you interviewed with or your recruiter. Hopefully, their reasons are things you can work on to get right next time. For example, if you failed to demonstrate your knowledge, you can practice this ready for next time.
Stay motivated
When you start looking for a new job there is no way of telling how long the process might take. It may very well be months before you land your next role and this will be down to a huge number of factors, many of them out of your control. This can be demotivating but by being well organised, being persistent and approaching the process with a perspective can keep your motivation when things don't go your way.
There is a job out there for you, you just need to find it.