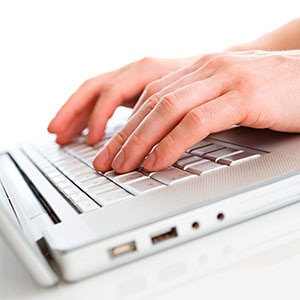 A cover letter is often the first thing an employer will read about you.
If you treat cover letters as an afterthought then you are missing an opportunity, submit a lacklustre cover letter and you run the risk of the hiring manager not even looking at your CV.
So, you need to sharpen your cover letter writing skills and, in this guide, you will discover how to build a perfect cover letter along with a host of tips and advice.
The Importance & Purpose Of A Cover Letter
In the modern era, a quick Google search can reveal a surprising amount of information about any job candidates including their work history, major achievements and educational qualifications.
However, no matter how detailed your CV is, it won't provide employers with the full story since CVs as a rule should only be two A4 pages long.
According to numerous executives in various industries, a well-written cover letter is actually MORE important than a CV because it gives an insight into your attention to detail and work ethic. No matter how impressive your list of achievements is, it doesn't provide employers with as close a look at your personality as a cover letter.
Although the majority of job applications specifically request a cover letter, it is estimated that as few as 40% of candidates actually send one. Additionally, only 25% of cover letter senders go to the trouble of tailoring their submissions to the needs of the job which makes it easier for hiring managers to eliminate candidates. It also means that a tailored cover letter puts you somewhere near the top of the candidate list before your CV has even been read!
What you include on your cover letter is crucial since it tells the recipient if your background is the right fit for the job. Simply put, if you can't explain why your qualifications, experience and skillset is relevant to a job opening, it's likely that you either don't know what the position is really about or else your background is simply not a good match.
On the other hand, if you have taken the time to create a tailored and concise cover letter, it is a clear indication that you are dedicated, passionate and possess a keen work ethic. Most importantly of all, it is a good sign that you're ready for an interview.
Believe it or not, most employers are as concerned about hard work and dedication as they are with a candidate's list of achievements. You can have all the qualifications in the world but if you lack the passion, a company will not deem you suitable. Few things convey passion better than a professionally written cover letter.

The Anatomy Of A Cover Letter
Before we offer tips and advice on how to write a cover letter, let's have a look at how it should be constructed.
The Opening
It is typical to have your name, address and the date on the right hand side of the page at the top. The first line on the left hand side should tell the recipient what your letter is about; in this instance, you are applying for a job so make that very clear.
Personalisation is everything so don't begin with 'To whom it may concern'. In the digital age, there is no excuse not to find out who is in charge of hiring employees.
Paragraph 1 – Explain Why You're Writing
Most applicants make the mistake of saying I'm applying for the banking/accounting/IT job I saw on your website/in the newspaper's classified ads. This is a complete waste of time as this space should be used to tell the company how excited you are about the job and why you would be the right fit.
When you open with a bit of detail, you instantly rise above 90% of your rivals who continue to make the mistake of using a generic opening. If you have a personal connection to someone within the organisation, use it in the first few sentences. Put it this way; approximately 45% of professional service giant Ernst & Young's hires are internal referrals. This of course also highlights the importance of networking. In simple terms, if you know someone on the inside, use it to your advantage.
Paragraph(s) 2 & 3 – Show What You Have To Offer
Once you have the reader's attention, your next goal is to show why you're the best candidate for the job. This is where you tailor your cover letter so that your abilities, experience and qualifications are a match with what the company is looking for in a candidate.
Above all, you need to know the company's problems which means doing research beyond merely looking at the job description. Aim to figure out the challenges faced by the organisation and industry as a whole and determine where it sees its best growth sectors.
Once you have gathered enough information, it should be apparent what skills the company is looking for in candidates. Use this information to further tailor your cover letter and show that you not only know what the company does, you are also aware of the particular challenges it faces.
At this point, you can write about how your experience has given you the necessary tools to meet these needs; perhaps you have a relevant accomplishment or else you solved a similar issue with a previous employer. There are few better cover letter writing strategies than showing that you spotted a problem, solved it and can do the same for a prospective employer.
Final Paragraph – Following Up
This is where you give the recipient details of how you intend to follow up. Now is the time to directly express your interest in the job and state that you will follow up with a telephone call to schedule an appointment at a time that suits both parties. Be sure to make the call at the allotted time. It should be noted that some companies don't allow such calls but at the very least you can ensure that your materials were received.
What NOT To Write
The cover letter process is certainly a tricky one; you need to show that you're better than the other applicants but at the same time, you don't wish to come across as arrogant. You want the company to know you're excited about the prospect of working for them without sounding desperate; in other words, it is a delicate balancing act.
In most cases, keeping it relatively simple is a good idea as is avoiding the following.
Bland Objectives
A high percentage of cover letters contain a host of bland sentences about 'hoping to achieve the company's objectives' and 'looking to advance in my career' etc. Such banalities are literally a waste of space since every applicant wants these things.
Like it or not, employers are less concerned about your career objectives and more worried about whether or not you have the ability to help the company achieve success. You need to show the company that you're interested in helping it succeed rather than looking to simply advance your own career.
Excessive Superlatives
Obviously, you want to 'sell' yourself to the company but when you use too many superlatives, it comes across as arrogant which is, rightly or wrongly, deemed to be a reflection of your personality.
Avoid phrases like 'I am the perfect fit' or 'I am the best candidate' when writing a cover letter. By all means be positive but refrain from cockiness.
Humour
Unfortunately, cover letters are not the place to show prospective employers your unique sense of humour. While you may think that lightening the mood will enhance your chances of being chosen for an interview, it actually makes you look as if you're not taking the process seriously which of course means an automatic rejection.
Details Of Why You Left Your Last Job
The whole point of writing a cover letter is to get prospective employers excited about the prospect of hiring you. It is not the place for negativity which means avoiding details of why you left your last post. No matter how you frame it, the circumstances surrounding your exit will read negatively and that's a big no-no in the world of cover letter writing.
Cover Letter Writing In A Nutshell
Perform Research
As we mentioned above, you have to make the effort to actually research the company. This means checking out its website, the Twitter feeds made by its executives and even the employees of profiles on LinkedIn. When you know the challenges faced by the organisation you are in a position to show how you can be the person to meet them.
Additionally, knowing more about the company enables you to use the right tone when writing a cover letter. Consider the company's 'culture'. For example, financial institutions are typically conservative so you need to hold back whereas creative agencies allow you to be more expressive.
Grab The Company's Attention
You should immediately launch into the cover letter by explaining why you are excited by the opening and why you should be chosen. Remember, hiring managers will read dozens if not hundreds of applications so you need to get their attention straight away or else you'll end up in the bin.
Humour is generally a bad idea since it tends to fall flat on the page. You should also steer clear of platitudes and look to say something dynamic and direct. Finally, mention any connections you may have within the company and of course address the person directly.
Showcase Your Personal Value
In the end, hiring managers want problem solvers so make sure you dip into your research to determine the challenges faced by the company. Although there is no need to be specific, it does help if you can mention a trend that has had a great impact on the industry recently.
This could be something like "The changing laws within (insert industry here) have affected the ability of companies to provide high quality services." You can follow up by adding details of how your experience has given you the skills to meet these needs; for example, you may have solved a similar issue before.
Be Enthusiastic
Be very clear on why you want this particular position. Bear in mind that an increasing number of candidates possess the necessary skills so you need to be the person who keenly desires the role. You could write something along the lines of "I would love to work for your organisation as would everyone in the industry. You are at the top of your field and continue to set standards your rivals have yet to meet."
While this may seem cloying, it is a pretty effective tactic since it shows how much you want the job. There is no point applying for jobs that don't excite you. Job applicants often send out cover letters and CVs to 100 jobs but the trouble is, these submissions are generic and passionless by their very nature. It is much better to find 5-10 jobs you really want and pour your heart and soul into the process.
Obviously, you don't want to come across as a star-struck fan since authenticity is crucial; be professional and mature at all times. It should be noted that in industries such as technology and fashion, you can outline how much you like the products/services provided by the company. However, be sure to only use the kind of language you would expect a hiring manager to use with a customer.
Be Concise
When you write a cover letter, make sure it is no longer than a single A4 page. Some experts believe less is more; the ideal cover letter should be short enough to be read at a glance.
Your Cover Letter Checklist
Research the company before beginning the cover letter writing process.
Address the cover letter to a named individual whenever it is possible.
Grab the reader's attention immediately with a direct opening paragraph that outlines why you want the job.
Highlight 3-4 key accomplishments/skills/experience and make sure they are tailored to the job's requirements.
Relate yourself to the organisation whenever you can.
Show a high level of enthusiasm about the job and the company.
Eliminate all negative information.
Request an interview at the end of the letter.
State that you will follow up and then do so.
Keep the cover letter to less than a page in length; electronic submissions should be even shorter.
Reread the cover letter several times to check for spelling mistakes, typos and grammatical errors.
Despite all the information about how to write cover letters that is readily available, a surprisingly low percentage of job applicants ever follow this advice. Use this fact to your advantage to get yourself to the top of the "must see" list.