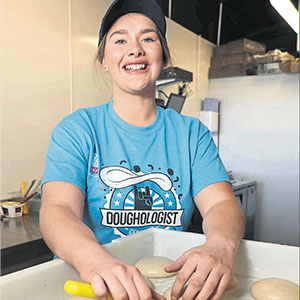 Nicole Doherty is from Belfast, who has worked for Four Star Pizza since she was 16 and is now a full- time doughologist
What's your job?

Many people don't realise we make our own dough, fresh in-store every day. To become a certified doughologist takes five months of intensive training, kneading and mixing.
I had no experience of making pizzas before I commenced training but I did have a passion for pizza and good customer service which helped me a lot.
At Four Star Pizza we source all of our ingredients, where possible, locally, including flour from Neill's Flour, which is a major component of our dough. Our secret recipe and the skill that we use to bind these ingredients together in a deliciously harmonious way helps me and my fellow doughologists to create the perfect pizza base.
Do you have a typical working day?
I start work at 10am and the first thing I do when I arrive at the store is check the inventory to see what dough we need for the week and order stock accordingly. After this, I start preparing my first batch of fresh dough and whilst this is mixing I ensure we have enough proofed dough – it usually takes 48 hours to proof – for the shift that day and forecast what will be needed the following days. There is a real science to making the dough and every Four Star Pizza
There is a real science to making the dough and every Four Star Pizza doughologist learns the precise recipe during their training. It's the same for identifying which of the proofed dough balls is ready for use.
What qualifications do you have?
I have nine GSCEs and two A-Levels in business.
What other skills do you need in your role?
A passion for quality customer service for sure. We deal with people face to face and over the phone every day and it brings challenges but also lots of rewards. Being able to stay cool under pressure, the ability to work as part of a team and under your own steam is paramount, as well as leadership qualities as shifts can be pretty busy and a level head helps keep things on course. A skill and passion for cooking are great but not essential and a love of pizza certainly helps.
What's the best thing about your job?
At the moment I am not based at one store which means I am travelling to other stores to help out, which I love, as I get to meet loads of new staff and customers.
Four Star Pizza's first Northern Ireland restaurant was opened in 1999 on Belfast's Beersbridge Road and the recent opening of a new store in Bangor brought the total here to 12, with other locations including Carrickfergus, Newry, Drumahoe, Derry, Armagh, Portstewart and Newtownabbey.
I have flexible hours as it's not a 9-5 job and the people I work with are really lovely – we have lots of fun during our shifts, which is important.
And the worst?
That would have to be working to 3am on a Saturday and the temptation of delicious pizza every day.
What do you think are the greatest challenges/pressures of the job?
Our dough recipe is very precise so getting it exactly right, every time, is a real pressure as our customers have to come to expect a high-quality product from us. Dough includes water, yeast, flour and oil, among other things, and making sure you have all of these ingredients in the mix and in the right amounts is crucial. Each dough ball needs to be cut at the right weight, rolled correctly and the dough has to be at the right temperature.
What did you want to be when you were at school?

I wanted to be a lawyer when I was at school, so I could have been laying down the law instead of rolling out pizzas, but I couldn't be happier now. I have a career as a doughologist that I love, I am working with a successful company and great people and our customers are the best.
What's the most common question people ask when they find out what you do?

What's a doughologist? Followed by: can I have a free pizza?