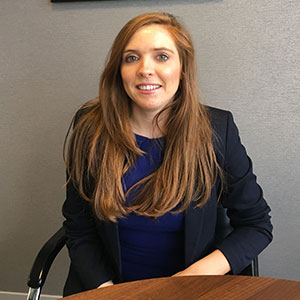 Software Management & Development Recruitment Consultant, Lauren Glencross, tells us more about her role with VANRATH recruitment in Belfast.
How did you get there?
For the past number of years I've worked in the recruitment industry in London where I recruited graduates to come on and work as recruitment consultants. After I decided to move home to Belfast, I wanted to work for an agency that was similar to the London agencies in terms of what they offer, and VANRATH did just that.
What's the best thing about your job?
Honestly, I would have to say that it's helping someone take the next step in their career. Within VANRATH we specialise in a specific area, and this gives us the opportunity to really get to know our candidates, their skills and what makes them tick. Here it's not just about getting someone a job, but helping them take the next step in their career so there is a great sense of satisfaction in finding someone their perfect role.
 What do you think is the greatest challenge of your job?
I think the biggest challenge any recruiter faces is targets but the targets in VANRATH aren't unrealistic which definitely helps. I think that for anyone who is self motivated and has good self drive has the potential to do really well within the recruitment industry.
 What advice would you give someone considering a career in your profession?
Do your research! When I worked in London recruiting people to join the recruitment industry, I often found that they weren't really sure of exactly what the role involves. You need to know what motivates you as recruitment is a very driven career. VANRATH are currently looking for people with drive and passion to join the team of recruiters so if you're interested in recruitment as a career, check out the details here.
What's the most common thing people ask you when they find out what you do?
The most obvious one would have to be "Can you look at/fix my CV for me?" Even though I recruit for software management and development, people are generally looking for broad hints and tips that will work on any CV.
What do you look for in a CV?

Detail. While no-one wants to read a CV that goes on for pages and pages, I do need to see the technical detail of what you do/have done in your career. I like to see academics, particularly from A Level, accurate descriptions of your skills and a clear career progression. Finding a candidate who can demonstrate self awareness on paper is also a great skill to have.
Do you have a killer interview questions and if so what is it?
Given that I recruit IT people, I like to know what their interests are outside of work. I use this question to help establish the type of person the candidate is – are they a real techie or do they totally switch off from the IT world outside of office hours? I like to know what makes a candidate tick so I can be sure to place them within a company that will be a good fit for them culturally as well as for their career.