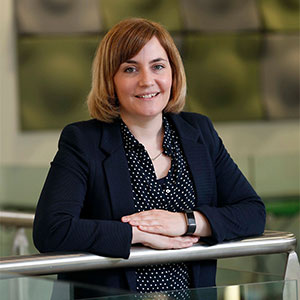 Karen McCallion, science, technology and innovation manager with InterTradeIreland tells us about her work and career aspirations.
What was your first job?
I was a runner or 'go-for' on Channel 5's Pepsi Chart Show, where I was responsible for answering various C-list popstar demands such as removing the blue M&Ms as part of their rider.
The last TV job I did was as science producer for the Professor Brian Cox series Human Universe, where I produced a film shoot on the International Space Station, dodged some polar bears in the Arctic and drove a Tesla over the Golden Gate Bridge. Thankfully there wasn't a blue M&M in sight.
What qualifications do you have?
A masters in chemistry from the University of Oxford, a diploma in documentary filmmaking from New York University and I'm studying for an MSc in Business Development and Innovation at Ulster University, which is certainly the most relevant qualification for my current role in InterTradeIreland.
To what do you attribute your success?
Listening more than speaking, a good sense of humour and a strong work ethic.
How would you describe yourself to someone who had never met you?
Honest, sincere and enthusiastic. I look forward to working with the wider InterTradeIreland team as well as the hundreds of SMEs and micro-companies across the island and I hope that's how they will see me too.
Who do you look up to in business?
Ricardo Semler, chief executive of Semco Partners – I think he's an inspirational maverick.
How do you get the best out of people who work for you?

Be trusting, fair and don't ask anyone to do something I wouldn't consider doing myself.
If you could change one thing about doing business in Northern Ireland, what would it be?
More cross-border collaborations. In fact more collaboration full-stop. This is a strong area of focus for InterTradeIreland and I look forward to supporting relationship building and partnerships to stimulate trade.
Tell us something interesting about yourself.
I spent four months working for a civil society organisation in the Himalayan Kingdom of Bhutan, discovered a love of ema datshi (cheese and chillies) and found that with the right amount of layering, I don't need central heating.
What's your greatest passion outside work and family?

A cliché… but travelling. I'm always looking for the next adventure – the Trans-Siberian express is definitely on my wish list.