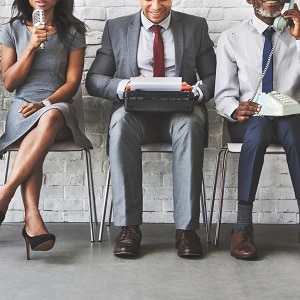 No matter how qualified, experienced or suitable you are for any role in Northern Ireland, it is your CV that does all the talking. If you fail to make your case, the chances of getting called in for an interview are minimal. Here are some eye-opening CV statistics:
92% of shortlisting decisions are based entirely on your CV.
One senior manager in a large UK firm confessed that only 20% of CV's are 'good.'
On average, there are six people better suited to the person who gets the job!
The data is clear; a weak CV = no interview. You need your CV to stand out, and the best way to do that is by including key skills relevant to the job description. Typically, CV skills are divided into Adaptive, Job-Related & Transferable. Let's look at a few in each section below.
Adaptive Skills
These skills relate to characteristics and personal traits. These are the skills that set you apart and make you unique. In the event where you share similar job-related and transferable skills with other candidates, adaptive skills can give you the edge.
Interpersonal/Team Work Skills
This could relate to the time you trained new staff, worked with a team to achieve a common goal, or organised the staff Christmas party.
Productivity
Your ability to complete tasks on time and under budget (when applicable).
Honesty
A track record of making sensible and ethical decisions at work.
Loyalty
It costs a small fortune to train new staff these days, so companies are always on the lookout for people who plan to spend several years at the firm. If you have spent years at one company, mention it on your CV.
Creativity
There are occasions when you need to think laterally to get things done. If you love art, music or poetry, it could pay to include it.
Transferable Skills
These are skills, personal attributes, and aptitudes you have picked up during your career and life in general. Previous work experience, volunteer work, hobbies, sports and any other experiences you've had all provide you with transferable skills. These skills let your employer know that you can learn and outline what you can bring to the job. Transferable skills are essential if you lack experience.
Leadership
The most obvious example is if you were a manager or led a project. However, you can demonstrate leadership qualities by taking charge of a project or stepping in when other colleagues need help.
Communication
Employers want staff with outstanding written and oral communication skills. This means showing the ability to clearly explain your ideas concisely. You can outline your communication skills by writing about the time you created reports or mediated conflict between staff.
Business Acumen
Employers love it when candidates show a 'head for business'. Companies are also seeking employees who can handle figures such as the firm's turnover. It is also useful if you have experience in negotiating contracts.
Time Management
Meeting deadlines is part and parcel of any successful business. You must show examples of when you prioritised a project to ensure it was completed on time.
IT Skills
With most of the world's business conducted with the aid of computers, you have little chance of being hired if you can't outline your computer literacy. Depending on the role, knowing how to use the Microsoft Office package may not be enough!
Job-Related Skills
These are skills needed to perform a specific role effectively. Since your CV must be tailor-made for every role, your chances of landing an interview increase if you can provide good examples of job-related skills.
Driving
If you're applying for a job as a truck driver, you need to have plenty of relevant driving experience!
Computer Aided Design (CAD)
An essential skill for architects, CAD, helps them design new buildings.
Accountancy Qualifications
Most industries require a capable accountant or bookkeeper.
Mechanical Engineering
This involves designing, developing, and repairing the components and machinery involved in industries such as construction and manufacturing. Mechanical engineering is potentially a transferable skill as you can move into a related sector.
Nursing
While nursing shows that you are organised and caring, it is a job-related skill which you can only use in the healthcare industry.
You would be forgiven for believing that job-related skills 'trap' you because they seem restrictive. For example, you can't use your nursing skills to become a retail manager! If you feel as if a lack of job-related skills is holding you back, consider enrolling in a training course in Northern Ireland.
It is also important to note that many job-related skills are transferable so be sure to mention them if they are in any way relevant. If you have completed any courses or qualifications related to your job-related skills, include them in your CV's education section.
Additional Tips
Include Keywords
There are thousands of Northern Ireland jobs advertised online which means you have to send your CV electronically. Most companies utilise an Applicant Tracking System (ATS) which reads your CV and looks for keywords related to the job description. As a result, you need to thoroughly check the description and include any important keywords. Failure to do this means your CV is eliminated from contention before a human even reads it.
Check out LinkedIn
If you're applying for a job but don't know what skills to include, go to LinkedIn and analyze the skills of people who already have a similar job to the one you're applying for.
Pick & Choose
Don't clutter your CV by including dozens of skills. Pick 5-6 of the most relevant and provide examples of how you used each skill for the benefit of your employer.
Rate Your Skills
Don't be afraid to 'grade' your skills; employers will appreciate the honesty. You can grade on a scale of 1 to 10 or divide the ratings into beginner, intermediate and expert.
When it comes to getting a job in Northern Ireland, skills really do pay the bills so make sure you have the right ones on your CV.