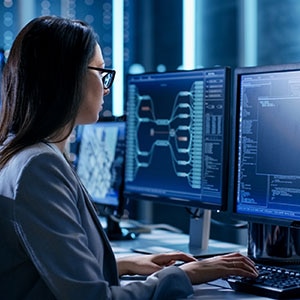 Jobs in Data Protection and Cybersecurity have increased as businesses across Northern Ireland prepare for the introduction of new tougher data protection legislation according to latest NIJobs.com Jobs Report with Ulster Bank.
The number of roles in this sector increased by 78% compared to the previous year.
The new data protection law, which comes into effect on 25th May 2018, known as GDPR will give people more control over their data and aligns data protection policies across the EU.
Sam McIlveen, General Manager of NIJobs.com gives further insight from the latest report;
"Many businesses are working hard to prepare for this more robust law and NIJobs.com has seen considerable demand for staff with experience in data protection. If companies break GDPR regulations, then the penalties are severe. They can be fined up to 4% of their global annual turnover.
"Given the size of the fines a business could incur, we would expect this would continue to be an area of growth for recruitment. These types of jobs along with their niche expertise are here to stay."
"Running alongside the data protection jobs we are also experiencing a rise in cybersecurity jobs again due to the new GDPR legislation. Data Protection and Cybersecurity go hand in hand. Not only do people have to know how their data is being used by businesses but they also need to be confident that their data is stored securely."