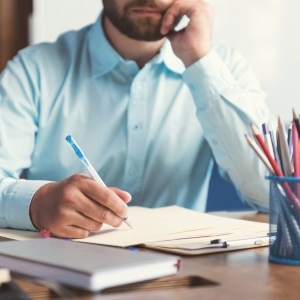 How to prepare for a job interview?
When preparing for a job interview in Northern Ireland, the last thing you want to do is read a magnum opus telling you what to do! That's why we have comprised a short and concise guide to ensure you're ready to produce the interview of a lifetime.
Do Your Research… Right Now!
If you know little about the company or the people interviewing you, it will show on the day. Google is your friend so use the search engine to perform the following tasks:
Check out the firm's website with a special emphasis on the 'About Us,' 'Products,' 'Team' and 'Press Releases' sections.
Peruse the company's blog if there is one on the site.
Look at the organisation's LinkedIn page and any other social media sites.
Find out its main competitors and analyse them.
Try to determine the identities of your interviewers and perform a search on them.
This means going to the company website and LinkedIn pages to learn more information.
Match Your Skills & Experience With The Job Description
You have already done this with the CV, but it's important for the interview too because it gets you prepared for behavioural and job-specific interview questions. Create a list of qualifications for the role. Then, write down what you bring to the table in terms of assets and match them to the requirements of the job opening.
Ideally, you will create up to 10 such 'assets' which should include:
Skills
Certifications
Professional Qualifications
Abilities
Experience
The key is to bring up these assets at the right time during the interview to explain why you're the best fit. When it comes to previous work experience, think of examples that outline your qualities.
Try to Anticipate The Kind of Questions You'll Be Asked. Every interview is different and no matter what, there will always be a 'curveball' question that catches you off-guard.
However, you can help yourself immensely by checking out the most likely questions you'll be asked. Realistically, this step should cover up to 90% of the likely questions which may include:
What can you tell me about yourself?
Where do you see yourself in 5/10 years time?
Why are you considering leaving your current role?
What is it about this job that interests you the most?
What are your biggest strengths and weaknesses?
Do you have any questions to ask me?
The above is just a small sample of the questions you can expect to hear. The final question is crucial, and if you've conducted your research, you should be able to think of a couple of queries.
Conduct a Mock Interview
You can prepare the questions and do as much research as you like but when it comes down to it, few things help get you ready more than a mock interview. Choose a friend or family member to act as the interviewer, and take things seriously! Although it isn't a real interview, you'll be shocked at the extra confidence it gives you.
Be sure to ask your stand-in interviewer for feedback on your body language, answers, and general preparedness. It is also a good time to practice a firm and confident handshake!
Get Your Interview Outfit Ready Ahead of Time
A crucial part of preparing for a job interview in Northern Ireland is choosing the right attire. The sensible option is to get your outfit ready the day before the interview. Think about it: Do you really want to be scrambling around looking for an iron at the last minute? Imagine picking your suit only to find that it is stained and in dire need of a dry clean!
You know the old saying: "Dress for the job you want, not the one you have." Unless you're interviewing for a job in a casual environment, always opt for business attire. Men can't go wrong with a smart suit and tie combination whereas women should look for a pair of black dress pants. These pants allow for a variety of options including a button-down shirt and blazer.
It goes without saying that interviewers expect candidates to be well groomed and clean. For men, this means clean shaven or a neatly trimmed beard with tidy hair. For women, classy yet understated make-up and a professional hairstyle.
Final Interview Preparations
As well as laying out your interview outfit, put together the items you should bring. These include:
Extra copies of your CV.
A list of references (if not included in your CV).
A list of questions to ask the interviewer.
A pen.
Work samples such as design layouts etc. if applicable.
Tardiness is Always Unacceptable
Unless you can prove you were in an unavoidable accident, interviewers will not tolerate lateness. Once you learn where the interview is taking place, plan out your route and give yourself up to 30 minutes 'wiggle room' since you should arrive 15 minutes early. This gives you time to survey the building and to relax!
Once you arrive, greet the receptionist and everyone else you meet with a smile and a handshake. Take your seat when it is offered and wait to be called! Now, it's showtime!
After The Interview
Hopefully, you did your due diligence, and the interview went smoothly. After everything is finished, smile, shake everyone's hand and leave the room with confidence. Follow up by sending a thank you note or email where you also reiterate your desire to land the job, outline your qualifications and point out the areas where you believe you can make major contributions to the company.
This 'thank you' letter is also an excellent opportunity to discuss matters of importance that either didn't come up in the interview or you were unable to answer adequately at the time. Although it is difficult to 'look forward' to an interview, you need to see it for what it is: A golden chance to further your career.