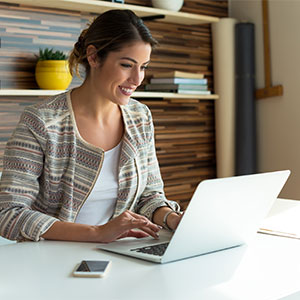 Personal statement advice
While you can write a personal statement for a University application, this article will focus on how to write a personal statement for a CV.
Regardless of the reason for writing it, the entire purpose of the personal statement is to sell yourself to the reader. You have to quickly and concisely summarise your experience and skill and ensure it is relevant to the specific job.
A personal statement is your opportunity to stand out from the rest of the applicants. Recruiters in Northern Ireland take it very seriously and look for candidates that clearly outline their strengths, achievements and career aspirations in relation to the job opening. We recommend including one in your CV because it gives you a decided edge on your competition.
How to Write a Killer Personal Statement
As well as providing the reader with an overview of who you are, a great personal statement includes information about your work experience, skills, and education. If you don't have much in the way of work experience, include hobbies and interests that are relevant to the job opening:
Leadership Skills: Captain of a sports team.
Initiative: Community or volunteer work.
And so on.
Personal Statement Structure
The most important thing to remember is that your personal statement must be concise and to the point. Keep it below 150 words. If you make it any longer, you will lose valuable space in your CV.
Given its brevity, you need only concern yourself with a short beginning, middle, and end.
Beginning: Include a one-line summary of yourself. For example: A creative broadcast professional with a Master's Degree in Videography and five years' experience in the digital media field.
Middle: Outline the reason why you want the job and what you can offer to the company.
End: Reiterate why you want the job and why you're the right person to hire.
5 Questions You Must Answer
When you sit down to write your personal statement, make sure you answer the following five questions:
Why are you interested in this job?
Why should the company hire you? (Think suitability)
Do you have any work experience or training that is relevant to this opening?
Have you participated in any projects that demonstrate your abilities in relation to the job?
Do you have any special skills that help you stand out from the rest of the candidates?
You should have an excellent idea of what to write once you've answered those questions. It is also a great way to develop an outline for your personal statement since you know what to highlight and what to leave out. A prime example is if you don't have work experience. In this instance, focus on your academic achievements.
7 Personal Statement Do's
Write the statement in a polite and positive tone that highlights your professionalism.
Highlight your skills and/or experience that make you an ideal candidate.
Include key skills that are a good 'fit' for the job description.
Thoroughly read the job description and tailor your personal statement to fit it.
Keep the length of your personal statement between 50 and 150 words. If it's too short, you won't accurately convey your suitability. Too long and you'll bore the reader and run the risk of repeating yourself in the rest of the CV.
Provide a quick overview of your work history and education and outline what you have learned from your experience to date.
You can write your personal statement in any 'tense' or 'person' as long as you remain consistent.
7 Personal Statement Don'ts
Include unnecessary personal information. There is no good reason to include your age, marital status, sexual orientation, religious affiliation, number of children or anything of that nature.
Treat the personal statement as a generic 'one size fits all' piece of information. Failure to tailor it to suit the specific job opening means your application will end up on the rejection pile.
Include negativity. A personal statement is not the place to discuss your flaws! Your best chance of securing an interview is to remain positive and highlight your good points.
Lie. Even a 'white' lie could cost you dearly in the long run. Recruiters have an uncanny knack for finding out when applicants misinform them.
Be vague. If you decide to copy a personal statement example you found online, the reader will know! Also, including information you can't back up with evidence at the interview is a no-no!
Include clichés. There is a reason it is called a 'personal' statement! You have little chance of landing an interview if your statement (and CV) is littered with phrases such as "I'm a great team player."
Forget to check for spelling and grammar. Since a personal statement is extremely short, you have no excuse for making spelling and grammatical errors.
Personal Statement Examples:
Writing your personal statement can seem quite daunting. The examples below should help you tailor and focus your personal statement to suit your career stage. By taking the time to write an awesome personal statement, it will help give your CV the edge it needs to stand out from the crowd, and help you secure that all, important interview.
Career Break Personal Statement
We understand there are many reasons for taking a career break: travel, volunteering, parental leave or long-term illness. Our advice is to explain the gap caused by it, don't leave your potential employer guessing the reason. Anything that raises a question mark about you, could see your CV removed from the shortlisted pile of candidates to be interviewed.
Example:
A highly skilled [insert role] with over [x- number] years' of experience. My skills and expertise include: [list skills and experience relevant to the job description]. Looking to resume my career in a fast-paced environment within this industry, after taking a short break to travel the world to experience other cultures.
If you've taken a longer career break, you could highlight the steps you've taken to refresh your skills. You could upskill by taking an online/offline course, or by researching changes in the industry perhaps there are new techniques or tools used.
Career Change Personal Statement
If you've decided to change your career, you'll need to focus on your transferable skills and the passion and enthusiasm you can bring to this job. It's about persuading employers to give you chance, while you build up industry experience.
Example:
Experienced [profession] with over [x number] years' experience is looking for a new challenge. Hard working and self-motivated individual who has successfully balanced full-time work with part-time study in order to pursue a change of career. I am keen to continue building my knowledge in this area and follow my dream of becoming a [new career].
Graduate Personal Statement
As a graduate you may be short on industry experience and achievement, instead focus on the skills you've learnt and developed through your education and college life or any industry related work experience you might have. It is important to tailor the personal statement to the job. What skills have you learnt from your education or extra circular activities that are relevant to job?
Example:
Recently graduated from [university] with a [grade] honours degree in [subject]. I have gained invaluable work experience at the industry leading organisation [name organisation] doing [x]. This hands-on experience along with the knowledge I obtained in [list relevant subject(s) to the job] from my degree will help me make an immediate impact on the business as a [new role].
Final Advice on Personal Statement Writing
Recruiters are keen to read CV's that contain original and well written personal statements. They will spot a generic version straight away and won't bother to read the rest of your application. Given its importance, you will probably have to spend a lot more time writing it than you might anticipate.
It is also crucial that you write a brand new personal statement for every  job application. You're probably wondering: "I want to apply for 25 jobs, does that mean I have to write 25 different personal statements?" The answer is 'yes and no.' Yes, if you intend on applying for so many jobs, you have to create a brand new application every time.
No, if you take the time to write an outstanding personal statements and CVs, you won't need to apply for 25 jobs! When you master the art of creating a great CV complete with a killer personal statement, you'll find your 'strike rate' of applications to interviews in Northern Ireland will increase significantly.