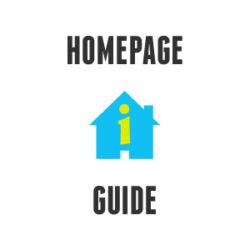 NIjobs.com has changed.
The new version of NIjobs.com has been built to personalise the experience for you and to remember your preferences and interests based on your interactions with the site.
It means that each time you visit us you won't have to start your search from scratch.   We've become your own personal jobs board.
We'd like to take you through some of the changes and updates we've made to our homepage.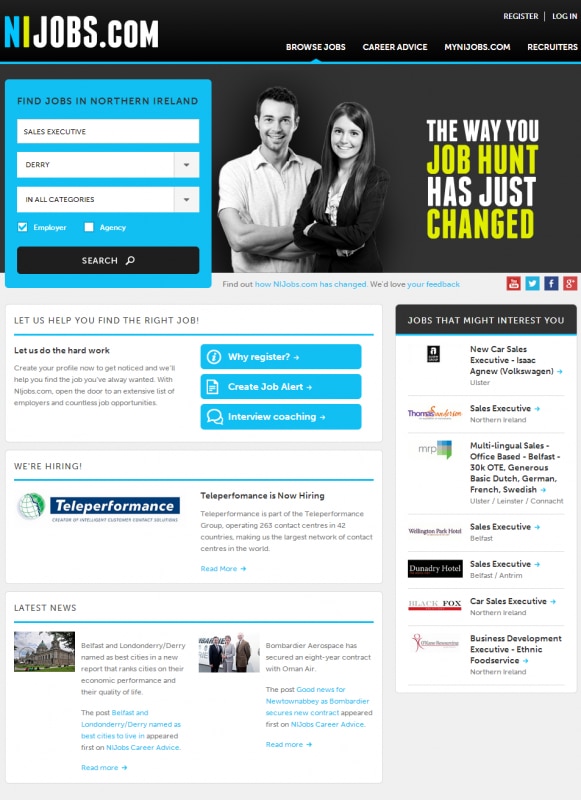 Cookies
When you first enter the website you will be asked to accept cookies.  Please do.  It will allow us to remember  past searches so we can show content that matches your individual preferences.
Homepage layout
Register & Log In buttons
Navigation toolbar
Search Box
Let us help you
We're Hiring
Latest News
Jobs that might interest you
Footer – category & location searches
 Register & Log In
Navigation Toolbar
This runs along the top of the page and is broken in to 4 sections:  Browse Jobs,  Career Advice, MyNIjobs.com, Recruiters
Browse Jobs:
This is broken down into 2 sections: Search by category or Search by EmploymentType
Category: allows you to search for roles within particular categories (eg IT) and will display ones tailored to you based on your previous searches or based on your profile if logged in to your account
You can further expand this list to View All Categories
Employment Type:  allows you to search by Company or Agency.  Company are jobs posted by the company themselves and Agency are jobs posted by recruitment agencies.  Other search criteria include whether a job is permanent or contract.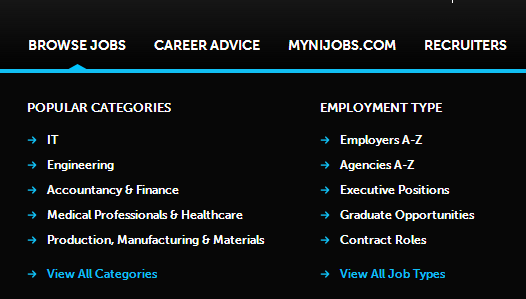 Career Advice:
Click on the Career Advice button on the toolbar to find tips, advice, guidance and support on all subjects relating to job hunting, careers and training.
The Careers page includes sections on CVs, Interviews and Job Hunting advice as well as an "Ask the Expert" page and various other blog posts
MyNIjobs.com:
Click on this button to log in or register for an NIjobs.com account
Why register? Get found by recruiters, save your CV in your account, set-up job alerts and more
Search Box
You can also run a quick search directly from the homepage using the "Find Jobs in Ireland" box
Here you can enter details such as a particular keyword / job title, location, category and choose whether you want to view all roles or just ones posted by employers directly or recruitment agencies – and then hit the Search button
Once you run a search the results page will also show you more options if you need to refine your search further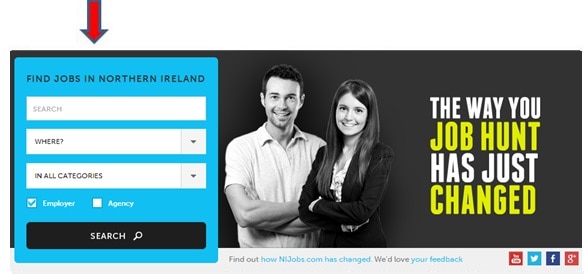 Let us help you
Here you will find links to help make job searching easier
We will show you different content depending on whether you are logged in to your account or not – if you are logged in the more personalised the content will be
Links include benefits of registering with us, how to create job alerts, uploading your CV and more

We're Hiring
This feature will highlight companies currently advertising vacancies
The roles featured will be personalised to your preferences based on your previous searches and your profile information when logged in to your account
Latest News
This will feature our latest news and blog posts and we will try to match the news shown to your preferences based on content in your account (when logged in) or previous searches