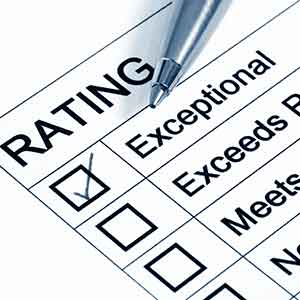 If you have been invited to a competency based interview, you may be a little confused as to what this actually entails.
This type of interview is different to its traditional counterpart but instead of being worried by the prospect, keep reading as this guide will show you why it's arguably easier to prepare for competency based interview questions.
What is a Competency Based Interview?
It is also known as a situational or behavioural interview and you will be asked a series of questions designed to evaluate your key competencies. You may be called in for this type of interview when the job on offer is for graduates and relevant industry experience is not deemed to be as relevant as it would be for jobs with traditional interviewing methods.
The term 'competency' links Knowledge, Skills and Attitude. For instance, you may have the right temperament (attitude) and excellent interpersonal skills (skills) but still not be deemed 'competent' for a certain job because you don't have the requisite level of education/experience (knowledge).
When you are called for one of these interviews, be aware that each competency based question will be designed to test specific skills. The answers you give will be analysed to see if they meet pre-existing criteria. For example, you may be asked how you cope with stressful situations and in this instance, you will need to tell a story of an occasion when you successfully worked under pressure.
What is the Difference Between a Competency Based Interview & a 'Normal' One?
Normal interviews are also known as 'unstructured' and involve an interview panel asking questions relevant to what they are looking for in a candidate. However, the panel's main aim is to get an impression of the candidate which means the questions are fairly random and will vary not only according to the industry but also to each individual company.
The questions asked in unstructured interviews gather general information instead of testing any specific skills you may possess. Interviewing panels can be subjective as the 'impression' you leave is by far the most important aspect.
In contrast, competency based interviews are more analytical and forensic in nature as the most important thing for a candidate to do is show he is 'competent' enough to get the jobs. Each question has a singular aim and you will be asked to back up all your answers with hard evidence in the form of examples. Once you have done this, the interview panel will dig even deeper and ask you to provide reasons for your actions.
Preparing for a Competency Based Interview
If you are unfamiliar with the process, facing competency based questions can seem intimidating but as the questions are more or less predetermined, you have an excellent chance of impressing as long as you prepare properly. However, there is zero chance of you 'bluffing' your way through which is occasionally possible in a traditional interview so follow these steps and be ready for whatever comes your way on the day.
1 – Know the Skills & Competencies You Will Be Tested On
Different roles naturally have different requirements but some candidates make the mistake of allowing their skills & competencies to be on the vague side. For instance, you may claim to have excellent communication skills when dealing with outside parties but this can vary depending on the job you are applying for.
If you are working in commercial law, your skills must include the ability to clearly explain complex things in layman's terms but your job does not require a great deal of empathy. In contrast, a customer service representative will be expected to show a level of understanding with customers while dealing with their complaints. Consequently, you must have full knowledge of the role's requirements before you proceed with the rest of your preparation.
2 – Research the Questions
We will take a closer look at some typical competency based interview questions below but you will need to do some further digging to determine the kind of questions you are likely to be asked.
3 – Go Through Your Employment History
Citing your skills & competencies is not enough; the interviewing panel want concrete evidence so find it in your previous work experience. Don't make the mistake of seeking out extraordinary examples which had amazing outcomes. In reality, you simply need to show the role you played in the examples, why it was so important and how it relates to the skills/competencies required for the job.
4 – Be A STAR!
This is a well-known technique that helps you structure your answers during the interview; the acronym stands for Situation, Task, Actions and Results:
• Situation: Think of the situation when you used the skill/competency in question. The key is to be informative yet concise by only focusing on what is relevant to the story. For instance, the situation may be that you had to deal with an awkward customer so you would explain how you ended up meeting the person and why he/she was being so difficult.
• Task: This simply involves you explaining what tasks needed to be accomplished. So you may be asked for an example of when you put your teamwork skills into action and you would talk about the task you had to complete as part of a team.
• Action: Experts believe this is the most important aspect of the STAR technique as you have to demonstrate and highlight the skills/competencies that a particular question is testing. In the first two steps, you have set up your story's context so now you have to explain what you did to the panel.
When doing so, remember these tips: Talk about you and NOT the rest of the team, add some detail, avoid being overly technical, and tell the panel what you did along with how and why you did it.
• Result: End the story by telling the panel what the eventual outcome was. At this stage, you should also look to describe your accomplishments and what you learned from the whole situation. When answering each question, it is crucial for you to show that you took specific actions to meet a set objective instead of leaving things in the lap of the Gods.
What Skills & Competencies Are Tested During Competency Based Interviews?
There are dozens of potential skills & competencies that can be tested for and will obviously vary according to the role you apply for and the industry you are employed in. Below, we look at 6 of the most commonly tested:
• Decision-Making Skills: If you are asked a question relating to these skills during your competency based interview, you must clearly outline your decision-making process by including steps such as identifying the core of the problem, collecting & analysing information and considering the options before reaching the final verdict.
• Leadership: During an interview for a management role you may be asked questions that determine your leadership style and decide if it is a good fit for the company. In this instance, you should provide examples of when you motivated your team, solved problems or made the right decision. It is of paramount importance that you showcase your experience when it comes to delegating tasks.
• Teamwork: Questions relating to teamwork will try to find out if you are able to work well with other people. In this instance, you need to provide examples of when you successfully worked with a team to meet your employer's objective.
• Problem Solving: To be a good problem solver you need to have good analytical, logical, methodical and critical thinking skills which help you uncover problems and find solutions.
• Planning/Organisation: Again, you have to show examples of when you successfully planned a project and organised it from start to finish. Questions relating to these skills are a certainty if you are applying for a project management job for example.
• Negotiating/Persuasion: You often see these skills placed in the same category when they are actually quite different. To show your negotiating skills you must offer examples of when you were involved in discussions and helped reach an agreement that was mutually beneficial to all parties. To show persuasion skills you need to tell a story of when you managed to convince fellow employees or customers to take a desired action.
Examples Of Questions You Will Be Asked In Competency Based Interviews
The questions you will be asked vary depending on the industry & sector of the role you are applying for along with the level of responsibility of the job. It is reasonable to assume that someone applying for a managerial role will be asked different questions to another individual looking for a mid-level job since the skills & competencies will obviously differ.
Nonetheless, we will attempt to give you an idea of what you will be asked by showing sample questions from 6 different competencies.
1 – Delegation
• What responsibilities have you delegated? Provide examples of projects where you clearly put your delegation skills to good use.
• Tell us about an occasion where you were reluctant to delegate a task to a colleague. How did this situation make you feel?
• If you were forced away from the office for a reasonable period of time (a holiday perhaps), how would you delegate responsibilities?
2 – Leadership
• Provide an example of an occasion when your team needed to up its performance. What problems did you face and how did you overcome them?
• Tell us about a time when you needed to use a variety of leadership styles to ensure your goal was met.
• Describe an occasion when you had to drive your team through a period of change and instability. What challenges did you face and how did you ensure your objectives were achieved?
3 – Teamwork
• Describe an occasion when you were a member of a team. How did you offer a positive contribution?
• What measures can you take to make sure every team member gets a chance to be involved?
• Provide an example of when you were forced to bring a difficult individual on to the team. How did you make sure this individual fitted in without causing a disturbance to the rest of the group?
4 – Decision Making
• What major decision did you make recently? How did you go about it?
• Provide an example of an occasion when you had to make an important decision without knowing all the facts.
• When did you last refuse to make a decision? Why did you take this course of action?
5 – Communication
• Give an example of a time when you made a difference to a situation because of your communication skills.
• What steps do you take to prepare for an important meeting?
• Tell us about the worst communication situation you have ever experienced. How did you overcome the challenges?
6 – Flexibility
• Have you ever had to change your approach midway through a project after new input?
• Provide an example of an occasion when you were asked to do something for the very first time at work.
• Give us an example of an occasion when your initial strategy failed and you were forced to come up with a brand new approach.
As you can see, they read a little like examination questions and that's the whole point. Candidates are expected to be as well prepared as they would be for an important exam so no shortcuts!
What is the Competency Based Interview Marking System Like?
The interview questions are 'scored' using a predetermined system where certain answers will get you positive marks while other replies may score you negative marks; this of course only heightens the 'examination' feel. For example, if you were asked a question about an occasion when you had to deal with a pressure situation:
Positive Marks
• Has a positive approach to problems.
• Acknowledges that the situation has a wider significance.
• Knows his limitations.
• Has the capacity to compromise.
Negative Marks
• Makes no attempt to seek assistance and instead tries and fails to solve it himself.
• Uses inappropriate techniques when it comes to handling pressure.
• Sees issues as 'problems' rather than 'challenges'.
Sometimes, the interview panel may divide negative marks into 'minor' (doesn't eliminate your chances of getting the job) and 'major' negatives (things such as not requesting help when required which will more or less end your chances of being hired).
Then specific marks will be allocated and depend on the extent with which your answer is positive or negative. It is often the case where the marking scheme is 1-4 with '1' being Poor and '4' being Excellent.
Final Tips & Conclusion
Although competency based interviews are different to traditional interviews due to the standardised nature of the questions, you can't rule out the 'human' element. By this, we mean the interviewer who, despite being asked to judge your performance based solely on the answers you give, will still take a liking or dislike to you.
Although you can't 'force' someone to like you, it is possible to give yourself the best chance by offering a positive first impression. This means dressing appropriately, arriving on time, shaking hands confidently, smiling and being clear when communicating. The competency-based interview will last approximately 60 minutes but the interviewer will have decided whether he likes you or not within the first 60 seconds.
This can be crucial during the interview process because an interviewer that likes you may help you along by probing into areas that you fail to address during your answers.
If you get invited to an interview, make sure you clarify what type it is because competency-based interviews are becoming increasingly popular.
It doesn't matter how qualified you think you are for the job; it's up to you to prepare correctly and prove to the interviewing panel that you're the right person for the role. We hope the above guide can steer you in the right direction.