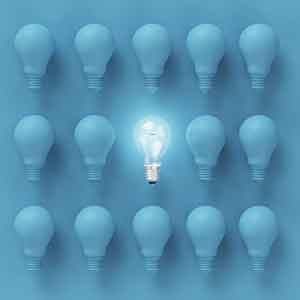 You've probably heard the old saying: "Dress for the job you want, not the job you have."
You could take this phrase and apply it to your CV and it still makes perfect sense. Perhaps you are happy in your existing role and simply haven't had time to check it recently.
Even if things are going relatively well for you right now, it pays to revamp your CV because you never know when you'll be looking for a new job or seeking a promotion.
Only you are aware of the additional skills and experience you have gained since the last time you updated your CV. With a revamp, you can update your CV to make it more substantial and ensure you are even more employable than before.
There always the prospect of a new opportunity popping up so why not be prepared? So here are our 7 tips on revamping your CV to showcase your talents and accomplishments.
1 – Update the Format
Your CV is more likely to be read if it is visually attractive so take a close look at your existing format. Does it look rather dull and dated? If so, consider sprucing it up a bit. Obviously, you need to use common sense here and take note of the positions you'll be applying for. As an example, a graphic artist has more license to be creative with CV design than an accountant.
You could try to make your CV stand out by using colour but be cautious when trying this. An example would be to make only the headers blue while everything else remains black and white. Perhaps a better idea is to use a different font. While Times New Roman is a classic choice, Calibri and Cambria are considered to be more 'modern' options and they make it easier for hiring managers to scan your CV.
You also need to update the format for the digital age. Make sure you have two different formats; one for emailing your CV or updating it online on job sites; and one that can be printed and brought with you into the interview. Remember, a font that looks good on paper may not be as readable on a computer screen. Finally, ensure your CV is available in several formats including PDF, Microsoft Word and text only.
2 – Make it 'SEO Friendly'
When large corporations have a job opening, they can expect over 100 applicants so they may decide to use software to find suitable candidates; this is sometimes called an Applicant Tracking System (ATS). In this case, the use of keywords can help you beat the robots and ensure you make it as far as a human reader.
Not only do ATS engines search for keywords, they also look for relevant content. Even if the company isn't using ATS, adding relevant keywords helps ensure your skills jump off the page even when the reader is merely scanning the CV. You may need to do some research to determine the kind of 'language' that is trending. Then you can revamp your CV by adding suitable keywords to your job descriptions and list of skills where appropriate.
3 – Add List of Achievements
If you haven't already added achievements to your CV, now is the time to start. A common mistake is to include a long list of accomplishments without ever showing how they benefited your previous employers. Hiring managers want to see how you solve problems and need evidence that your workplace achievements helped your organisation.
Here is the best way to include achievements in your CV:
• Description of Assignment: Managed a sales team of 25 for Acme Cars.
• What you did: Sold cars to customers; this included hire purchase deals.
• Result: Exceeded the annual sales target four years running during the recession which was in excess of £10 million.
You can also mention whether the project was completed before a specific deadline, under budget etc.
4 – Include Career Highlights
This lets you 'show off' a little and should provide the hiring manager with a compelling overview of what you have achieved in your career to date. This CV revamp option is best for individuals that have had a variety of roles or have achieved a lot in their careers to date. As always, you need to highlight your skills and show how they are transferable to the new role. Make sure this section of the CV perfectly matches the role you're applying for.
The challenge here is to be selective. Including everything you've done in your entire career to date will see your CV thrown on the 'rejection' pile! Most employers are only interested in skills relatable to the challenges they face in the modern workplace.
5 – Eliminate Irrelevant Information
One of the trickiest aspects of a CV revamp is getting rid of unnecessary information. As you update and add new content, it's obvious that you need to make space or else your CV will become too cluttered. Remember, the point of any CV is to get an interview. This means it should make employers want to meet you; this won't happen if you include content that isn't relevant to the job you're applying for.
You can't afford to be sentimental about certain material. If it isn't a good fit, get rid of it! One of the great things about tailoring a CV is that you can chop and change skills and achievements to suit different roles. You may need to remove something you like for one job application only to find it works perfectly in another!
6 – Add Hyperlinks
In the digital age, sending your CVs online via job sites and email is the new normal. As a result, adding relevant hyperlinks is a revamp tactic which shows hiring managers that you're the right person for the job. You can add links to your personal website, articles published in industry journals, your LinkedIn profile and much more.
If you're in a creative industry, a link to your portfolio is an excellent addition to the CV while those in a tech industry can link to a video CV or any websites you have built. Obviously, only include relevant hyperlinks and make sure the link isn't dead!
7 – Get in Touch with your References
While you don't necessarily need to add the contact details of your references or even write 'references available upon request' on your CV, it is important to get in touch with them. Imagine if you applied for a job tomorrow only to be rejected because the hiring manager couldn't find your references.
You can prevent this from happening by getting in touch with your references and making sure they will still vouch for you. Ensure you have their correct contact information and find out if they would rather be contacted by phone or email. Finally, this practice also enables you to determine if their reference is even relevant to the roles you're likely to be after.