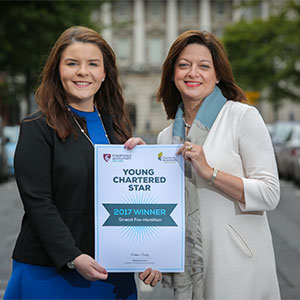 A young accountant from Tyrone will represent Chartered Accountants Ireland at the 'One Young World' conference in Bogotá, Colombia, later this year after winning the 'Young Chartered Star' 2017 competition.
Sinead, 32, originally from Dungannon, Co Tyrone, qualified as a Chartered Accountant in 2011. She trained with KPMG in Belfast and worked in the industry for a number of years.
She has since moved into a career in recruitment in the finance sector in Belfast working with specialist firm McKinty Associates Ltd.
To enter the competition, Sinead wrote an article on her career and particularly impressed the judging panel with her activity as an advocate for the Chartered Accountant qualification, and her honest portrayal of her path to qualification, and balancing a demanding job with a professional education programme. The panel also noted her involvement in several charities and voluntary work.
Launched last year, Chartered Accountants Ireland's 'Young Chartered Star' (YCS) recognises exceptional achievement amongst its trainees and members aged 35 years or under.
The award gives students and members the opportunity to share their experiences and ideas among the wider Chartered Accountants Ireland membership, with the successful candidate invited to attend the prestigious annual 'One Young World Summit'. YCS is awarded to someone who will lead, motivate and inspire the next generation.
Members and students under the age of 35 entered by writing an article on LinkedIn to detail their career path to date, the impact of the Chartered Accountant qualification on their life, as well as their future ambitions and advice for anyone considering Chartered Accountancy as a career.
Sinead Fox Hamilton commented "I am absolutely thrilled and humbled to be the winner of the 2017 Young Chartered Star competition. The quality of all the entries was remarkable – it was unbelievably inspiring to read the career paths and achievements of my fellow young members."
"I have always been a keen champion for Chartered Accountancy and I feel privileged to have the chance to represent the profession at the One Young World Summit in Colombia in October. I look forward to sharing my experiences from this trip of a lifetime."
Chair of the YCS judging committee and Council member Barry Doyle added:  "Each year we continue to find members and students with inspiring and fascinating stories of how our profession has helped them and others to grow and to succeed. Above all, the judging panel was excited to see the overwhelming support for the profession and our involvement in the One Young World Summit."